Pelvic Floor Physiotherapy
Our specially trained pelvic floor physiotherapists can detect and retrain muscle dysfunction to help clients in Manotick on the path to recovery and resolution of your issues.
What is Pelvic Floor Physiotherapy?
The pelvic floor is an important sling of muscles in the "saddle" area of the pelvis. It is attached at the front of the pelvis on the pubic bone, and at the back of the pelvis on the tailbone (coccyx); located inside your pelvis bowl. A strong pelvic floor provides support to the internal organs of the body, aids in bladder and bowel control, and enhances sexual enjoyment.
Dysfunction of the pelvic floor muscles may occur at any age, from bed wetting in childhood, to post-partum issues for women after the birth of a baby, to men at any age, to women's peri-menopausal years.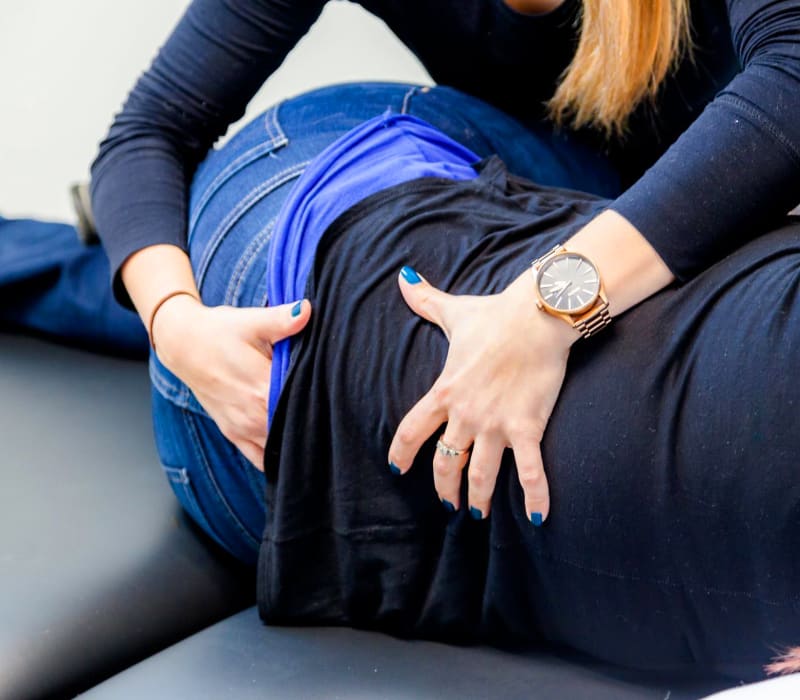 Pelvic Floor Physiotherapy for Women, Men, & Children
Physiotherapists with specialized training in evaluation and treatment of pelvic floor muscle dysfunction can address bladder and bowel control issues, pelvic pain, painful intercourse, pelvic organ prolapse, post partum issues, erectile dysfunction, childhood bed wetting, and much much more.
At Your Appointment
Pelvic floor physiotherapy sessions are conducted in a quiet, private room, comfortable, and professional environment. On your first visit, your physiotherapist will conduct an assessment which includes a thorough health history and physical examination.
The physical examination often includes an internal evaluation, via the vagina and/or rectum to assess the pelvic floor muscle function, remember the muscles are located inside the pelvic bowl. A treatment plan will be developed based on your specific assessment findings. Individualized goals will be set and aimed at improving pelvic floor and core muscle function, and improving symptoms.  
Treatment Modalities
Several possible treatment methods may be used during your sessions which typically last about 45 minutes.
Conditions We Treat
For All
Stress Urinary Incontinence
Urge Urinary Incontinence 
Nocturia
Bowel/Faecal Incontinence
Pudendal Nerve irritation or pinching
Low Back Pain
Weak Core Stabilization & Muscle Control (e.g. Diastasis Recti)
Pelvic Organ Prolapse
Pelvic Pain Women
Dyspareunia (Painful Intercourse)
Vestibulodynia (Previously known as Vulvar vestibulitis syndrome)
Vulvodynia
Vaginismus
Pelvic Pain related to Pregnancy and Childbirth
Pain related to Post-Partum Scar Tissue or Adhesions
Coccyx Pain
Pelvic Pain Men
Chronic Prostatitis
Testicular and/or Penile Pain Syndromes
Chronic Constipation
Post-Prostatectomy Incontinence
Pelvic Pain Children
Bedwetting (Enuresis)
Overactive Bladder
Underactive Bladder
Voiding Postponement
Pilates and Pelvic Floor Program
Many patients who require further core strengthening will continue with the pilates program in conjuction with the pelvic floor program.
 Just as a pelvic floor physiotherapist will evaluate your WHOLE body, the 'core' (trunk) muscles and beyond play a key role in ensuring success with your recovery & pelvic floor health!
Meet Our Team
Our experienced and caring team is ready to help you heal an injury, recover from surgery, gain mobility, and lead a more active and pain-free lifestyle.
Meet Our Team