Our physiotherapists can work one-on-one with you to begin, strengthen or adapt your yoga practice with rehabilitative yoga treatment designed to suit your individual needs. 
Contact Us
What is Yoga Physiotherapy?
Yoga physiotherapy consists of instruction in the ancient healing art of yoga with a physiotherapist who is a certified yoga teacher (CYT). Yoga is a discipline in which the body moves into specific shapes (called asanas), along with guided breath and mindfulness, to allow for deep healing in the nervous system.
People of all body types and ability levels can access the body-mind-spirit health benefits of yoga.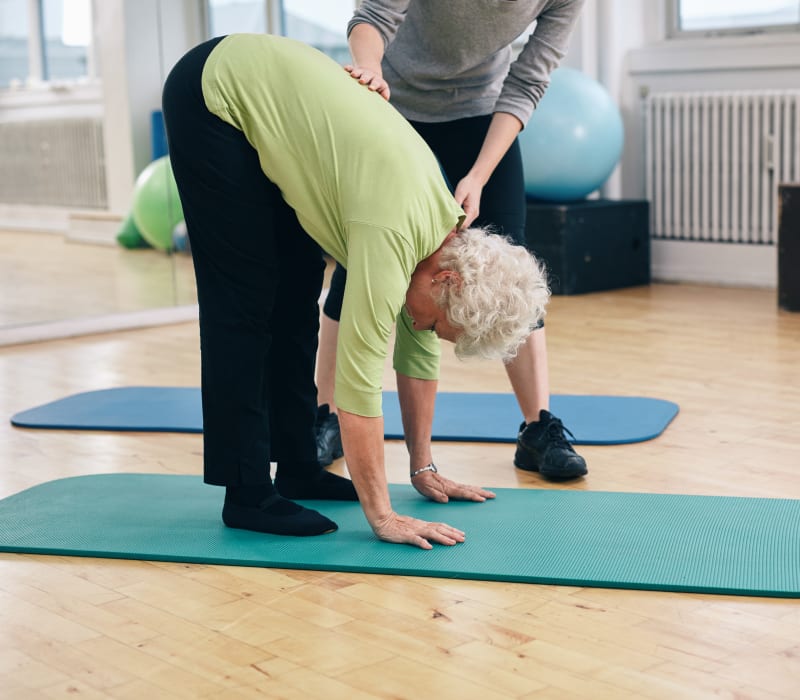 What are the physical benefits?
Yoga physiotherapy can help to improve joint range of motion, soft tissue flexibility, muscle strength and stability, circulation, heart and breathing rates, and sleep. It can even help to reduce pain levels, which helps support quality of life.
What are the emotional benefits?
Mental and emotional health are essential to our well-being. Yoga can help to reduce day-to-day stress, anxiety and overwhelm. It can also create mental clarity and calmness, improve resilience to life's stressors and support coping mechanisms.
Is rehabilitative yoga covered by my extended health insurance plan?
Yes! When rehabilitative yoga is provided by a registered trained physiotherapist, it is covered under the physiotherapy portion of your extended health insurance.
Is Yoga Physiotherapy right for me?
Yoga physiotherapy is a great entry point to introduce yoga in your life, or prepare you to follow online or studio classes with greater confidence and safety. Yoga may be right for you if:
You are new to yoga and wish to begin your journey with private instruction.
You have injuries or medical conditions that require learning alternate supports to allow for a more comfortable and safe yoga practice.
You wish to better understand proper pose alignment and reduce your injury potential when participating in a group class.
You wish to spend more time on the breathing and mindfulness tools of yoga.
What should I expect during my sessions?
Sessions are 1 hour in length and take place in a private room. The environment is maximized for a relaxing experience with soft lighting and optional music. Poses are made accessible with the use of chairs, blocks, pillows, blankets, straps, and bolsters as needed.
Your first appointment will be an assessment session where you and your physiotherapist will discuss relevant medical conditions and establish goals for your yoga practice. Your baseline mobility will be established and needs for support props determined. Subsequent sessions will consist of individualized yoga classes that your physiotherapist creates for you to progress through your goals. You will receive a copy of your yoga practice routine.
Meet Our Team
Our experienced and caring team is ready to help you heal an injury, recover from surgery, gain mobility, and lead a more active and pain-free lifestyle.
Meet Our Team